MAKING WELSH CAKES
It's really very easy to make Welsh Cakes if you have great ingredients and a few simple tools.  Now, because of our Welsh Cake mixes, you can create your own amazing Welsh Cakes in the comfort of your own home.  
GETTING STARTED:
You will need a rolling pin, a bowl and a spoon for mixing.  An egg (or egg substitute), a little butter and a spot of milk.  An electric or stovetop griddle or frying pan will be perfect for griddling your cakes. 
METHOD:

Preheat a frying pan over medium heat (2.5 on an electric stove) or an electric griddle to around 250 / 300 degrees F.  
In a large bowl or food processor, add mix and butter.  Cut butter into dry mix with a fork, or pulse in food processor until the mix resembles coarse meal.    
Pour mixture into a large bowl.  Add flavor ingredients (Chocolate Chips, Currants or Cranberries) and blend with a spoon.
In a small bowl, whisk egg and milk.  Gradually add egg mixture to dry mixture.  You may not need all the liquid. The dough should resemble a smooth ball of cookie dough and should not be wet. 
Turn dough onto a lightly floured surface, dust rolling pin with flour and roll to 1/3" thick, about the thickness of a wooden spoon handle.  Cut with 3" round cutter, re-rolling scraps until you have 12 cakes approximately. 

Cook approximately 5 minutes per side until cooked through and golden brown.  Cakes will rise slightly when cooking. 
Eat warm or cool and store leftovers in an airtight container. 
The cut dough can be wrapped and frozen (keep for a month) or put in the fridge (for a week) and then left to thaw prior to griddling so you can make fresh Welsh Cakes anytime. 
HOW SHOULD I EAT MY WELSH CAKES?

We love to eat our Welsh Cakes plain, with a dab of butter or honey or even with a little jam.  
We hope you enjoy making Welsh Cakes as much as we do.  Have fun and happy griddling!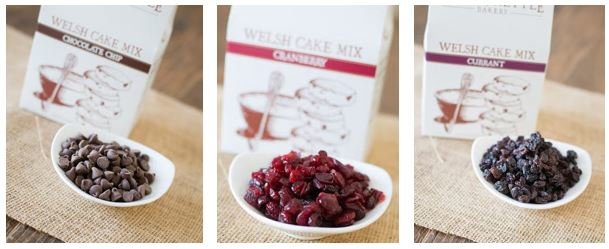 Click here to shop for your Welsh Cake Mixes. 

#Welsh Cakes        #scone    #pancake    #cookie    #Welsh #cakes

#Gifts                #holiday    #holidays    #christmas    #hannukah #kosher